---
Click Here to check out our 2019 Spring Thread on Bowsite.com
Manitoba Bear Hunts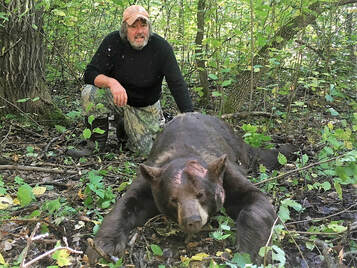 Welcome to Desjardins Outfitting and The Riding Mountains of Manitoba Canada.

Desjardins Outfitting started offering Guided Bear Hunts in Manitoba in 1994. Throughout the years we have had many record book bears harvested. Alexis Desjardins is a long time member of the Manitoba Lodge and Outfitters Association and is a proud sponsor on Bowsite.com. He has had many years of experience guiding & hunting black bear, deer, moose, elk and fishing throughout Manitoba. Through out the years he has gained an extensive knowledge of the bears seasonal travel patterns, living and eating habits.

The area that we hunt is located on the Northeast side Bordering Riding Mountain National Park. This area is known worldwide for its tremendous trophy potential and also for the high percentage of color phase bears that it produces. It also has one of the highest Black Bear densities in North America. Here you can hunt spring or fall with your choice of rifle, bow, or black powder. We also have fishing close by.
---
Why Manitoba
​​Manitoba has a reputation for producing extremely large black bears. Besides Toledo-popping fall weights, black bears in the heart of Canada have the skulls to match their weight. One look through the record books and it isn't hard to tell that Manitoba has the genetics for producing bears that hunters usually only dream of finding.

How Big?
Areas adjacent to Riding Mountain National Park have long been known for producing big black bears. Hunters around the park have historically harvested huge bears that frequent the vast tracts of mixed forest and agriculture lands. June 25th, 1987 may seem like a long time ago, but the information gathered on that day is relevant to potential black bear hunters. A large male black bear was captured in the park, and it officially weighed in at 430 pounds. The boar was fitted with a radio collar and captured again on September 9th, 1987. The same bear was weighed again, and in just 65 days it tipped the scale to 803 pounds. The bear can only be described as an eating machine, gaining close to five pounds per day. It would be interesting to know what the bear weighed when it went into hibernation later that fall.
The big, old bear may have had the protection of a national park to grow excessively large, but most of Manitoba's wilderness and fringe land areas offer prime black bear habitat and big bears. Black bear boars have huge home ranges and often cover up to 100 square miles in search of sows and their seasonal diet preferences. Any outfitter set up adjacent to wilderness area can have a steady supply of mature old bears that have never encountered a hunter.

Color
Although the name implies that bears are black, they do come in many color phases. It is generally noted that eastern Manitoba produces a high number of strictly black color-phase bears. The further west you go in the province the higher the percentage of color-phase bears, including blonde, brown, cinnamon, and even gray or near white bears. The Interlake Region, Parkland Region and western stretches along the Saskatchewan border are areas to target when looking for an increased opportunity to harvest a uniquely colored bruin.


---
…"I first contacted Alexis about a year ago wanting to do a bear hunt with him. I sent him the money for my then 17 year old
son and myself. I later asked him if it was ok if my then 7 year old son, Jeffrey could come along, to which he didn't even
​ hesitate to say YES! The year flew by. I'd called him multiple times, talked his ear off about our upcoming hunt.

​ Anyways, we arrived in Manitoba on Sunday, May 21st. Right away, Alexis and his wife April were extremely accommodating.
​ Their outfit is extremely organized and runs like a well oiled machine. I personally have never met 2 harder working people in
​ my life. And beyond humble. Alexis flat works his guts out for his clients. His wife flat works her guts out around their house and
​ ranch, and keeps these hunters in everything they could possibly imagine. My hope is that I can return with Alexis in 2019 again,
I'd go in 2018, but he's full. The bear hunting is top notch, the set ups are great, he works his baits, keeps up with them and
always has a fresh memory card for anyone to look at anytime. I can't say enough good about this man and his family. He
doesn't keep anything from anybody, it's all out on the table.

​ I have been on a decent amount of guided hunts. His definitely is the best experience I have had. And I've had a couple that were
​ flat amazing. But Alexis and his family are top notch and I wanted to at least post this to let anyone know that if you're on the
fence about this mans outfit....don't be. The experience was amazing. I killed my best bear to date, with my 8 year old son
​ watching. And he watched his 18 year old brother kill his best bear to date as well." - Jeff Dumas

---
...."There's just not more I could add to what others have said in the past about Alexis, April and their family. While of course being there for a bear hunt is why you go, being there with them just adds so much more to the total experience. …. They have a very unique way of making you feel as though you really are a part of their family.

The food was amazing. Scott and I felt like we were eating Sunday dinner at every meal and not only was every meal delicious, there was more than enough to go around - over and over. It was amazing. Thank you April - thanks for all your hard work. It was great!
​
The hunt of course was terrific. Most of us have seen Alexis' spring and fall threads on Bowsite.com and we follow them like a teenager on Facebook. Our fall hunt was no different than what we've seen in the past. Absolutely fantastic. Beautiful bears, tons of them and beautiful country. Classic Manitoba in every way. It's so redundant for all who have hunted with Desjardins Outfitting but all Scott and I can say is the same as so many others have said - thanks so much for all your hard work and for such a great week. It was the most enjoyable week ever and we can't wait for a return trip!" - Chuck DeLeeuw
---
Western Sportsman Magazine
Manitoba Hunting Forecast 2015

The province boasts a high proportion of bears with colour phases other than black, as well as truly big bears. This past spring, for example, a 595-pound bear just out of hibernation was killed on a highway west of Riding Mountain. In peak condition after a summer of feeding, it would have been a very large fall bear.
---
Bowhunter Magazine

"Manitoba claims a population of 30,000 bears, and because of the enormous
amount of precipitation the area gets, food is plentiful enough for some of the
bears to grow to become absolute behemoths. In 2006, a black bear killed by a
car was estimated by wildlife officials to have had a live weight of almost 900
pounds, making it one of the largest black bears to ever be recorded in North
America".
---
---
---