---
Alexis Desjardins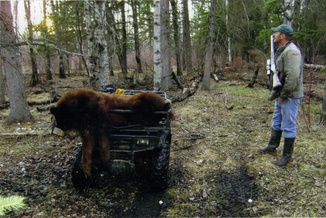 Come and join us for one of the most exciting big game
hunts in North America!! Feel the excitement as one of Manitoba's Monster Bears silently appears and your heart pounds as you wait for him to present the perfect angle for a shot.

Please contact us if you have any questions or would like to book your Manitoba Black Bear Hunt.
---
---
References

Tom Gayoski 508-763-2079 Randy Arsenault 774-263-1149 Jim Slapper 913-775-1789 Claire Bielat 517-567-8799 Tom Spurling 913-777-6431. Greg Miller 920-846-3961 John Garrison 785-86 5-7446 Dan Thiebeau 816-807-9120 Joe Malloch 508-326-6011

---
---
---